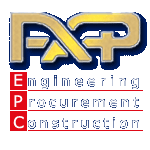 Fann Azmayan Pooyandeh (FAP) Co. (PJS) has been established as an E.P.C company in order to bring the Engineering, Procurement & Construction on facilities and capabilities in a private joint stock form for delivering the "Engineering Services" in the field of design, engineering and manufacturing of petrochemical , refinery and power plant equipment.

The FAP company has a comprehensive pool of qualified engineers all of whom enjoy extensive backgrounds in major local manufacturing firms as well as specialized work experience & training in highly reputable overseas firms including:

Deutsche Babcock (Babcock Borsig AG) - Germany
Krupp Koppers - Germany
Krupp Uhde -Germany
Krupp Industrietechnik - Germany
Omnical - Germany
Japan Steel Works (J.S.W.)
lshikawajimaharima Heavy Industries (l.H.l) - Japan
Foster Wheeler Energia (F.W.) - Spain




FAP has also engaged exclusively in field of

"Seismology , Seismic Engineering & Equipment Retrofitting of Oil , Gas & Petrochemical Industries"

for the first time in Iran.